Wait But Why Magazine
10 weeks | Student Project
Task

Create a physical magazine that aggregates some of the longer multi-part posts from the Wait But Why blog into a marketable product for the blog's online store. The magazine should function as a replacement to the unformatted pdfs that are currently sold on the blog, but should also feel like a premium collectible product that adds value to the otherwise free online content.

Roles
Illustrator
Graphic Designer
Editor
Art Director

Background
Waitbutwhy.com is a long-form online blog that covers a wide range of topics about how and why humans behave the way they do through a mixed lens of anthropology, technology, sociology, and philosophy. I'm a longtime fan of the author's writing, and I greatly appreciate his ability to explain immensely complicated things in accessible, entertaining ways.

In addition to writing all the content, Tim Urban (the man behind it all) also illustrates each post, packing information about everything from rocket science to political theory into infographics and stick-figure sketches he creates in MS Paint.

Problem(s)
The
Wait But Why online store
is missing an opportunity to benefit financially from its sizable readership of 1M+ unique monthly visitors by offering them a premium version of the content they love.
While
the blog content
is phenomenal, the design, typography, and layout of the site are not ideal for long-form reading.
The illustrations that populate the blog are both immensely charming and legitimately informative, but they're not eye candy, and their aesthetic has the potential to degrade the credibility of the writing.
My Solution

Without sacrificing its commitment to freely accessible content, Wait But Why could offer compilations of its most popular articles in the form of collectible print magazines for followers who would jump at the opportunity to engage more meaningfully — and financially — with the brand.

To add value to the print content and further incentivize followers to become customers, the magazine will feature elevated typography and illustration that makes the content more readable, more enjoyable, and more personal.
Defining The Readership


Wait But Why is a black hole of fascinating information you never knew you wanted to know. It's the perfect place for those who are naturally curious to lose blissful hours in articles with titles like Neuralink and the Brain's Magical Future, or What Makes You, You?

To center the magazine on exactly what draws people to Wait But Why in the first place, I defined a tagline (Simplifying the complex for the curious) and wrote a one-line manifesto to guide the print version of the Wait But Why brand. It reads "This magazine is for the curious."


Choosing A Theme

The writing on waitbutwhy.com covers a lot of topics. For the inaugural issue of the magazine I chose to center the content around the blog's most popular and widely read post:
The AI Revolution
.
The post is long enough to cover several feature articles in a typical magazine, so I split the content into five sequential articles that would make up the bulk of the writing in issue #1.
It was important to me that the magazine provide the same surprise enjoyment of learning something completely unexpected that is a staple of visiting the blog. For this reason, the front and back of the magazine include some of the blog's shorter posts about other topics.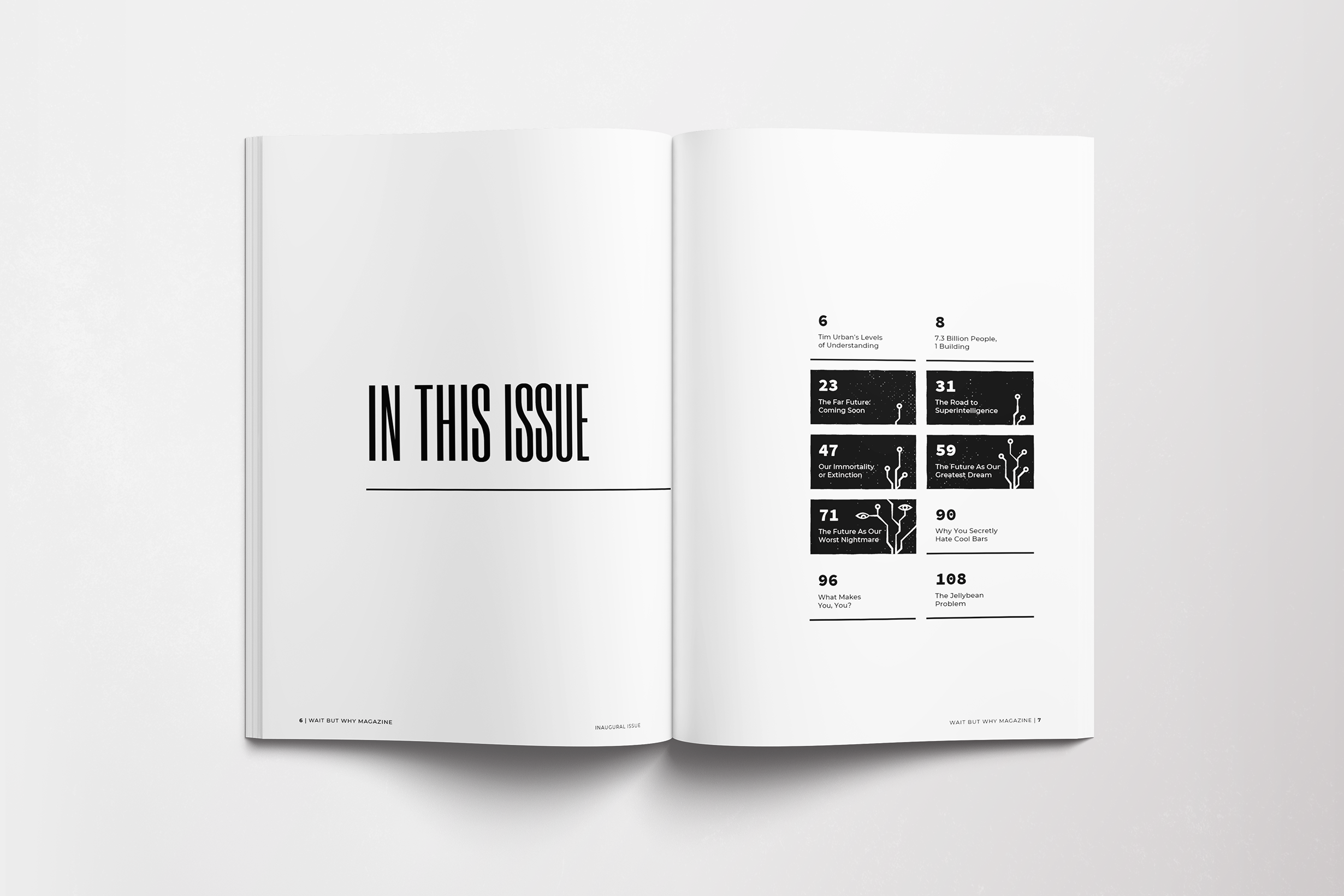 Selective Color


The articles in Wait But Why tend to be longer than what you would typically find in a magazine, and this presents a potential problem. Since the opening article spreads are so far apart, it may be difficult for a reader who is skimming the magazine to orient themselves in its pages.

To address this problem and differentiate the feature article in each issue from the shorter articles that appear before and after it I used selective coloring. Every article uses one main color, while the feature article appears only in black and white.

A Unique Challenge


The blog articles on waitbutwhy.com all feature illustrations and infographics by the author that convey a significant amount of information to the reader. Many of them function more like written content than supplementary illustration, in that if you were to move or remove them from where they appear in the flow of the article it would be more like moving a paragraph; the article would no longer make sense.

As this project progressed I found myself doing a significant amount of distilling and re-interpreting of visual information, often re-working the original illustrations from the blog into something that fit the updated aesthetic of the magazine.

Adapting the Brand Style for Print
As I developed the scope and direction of this project I knew that in addition to making a print version of a digital platform I would also be significantly updating the Wait But Why visual aesthetic and brand style.

Content-wise, the magazine is a paid version of something Wait But Why readers can get for free, so it's important that it provide some added value to customers. That added value comes in the form of enhanced readability through typography and layout, as well as more immersive illustrations.
Illustration Style


I had no doubt that the illustrations would be updated for the print version of Wait But Why, but it was important to me that this update retain the innate charm of the original MS Paint stick-figure drawings on the blog. The success of waitbutwhy.com proves that the excessive friendliness of this style is working for readers, and I also just tend to love it on a personal level.

And so, as I set out defining the visual style of the illustrations I made sure to lean in the direction of hand-drawn imperfections, variable stroke widths, and an inky sketchbook style.
Illustration Focus: Little Figures

Any Wait But Why reader could tell you that stick figures are a staple of the online blog. They're used for explaining all manner of things, and they interact with infographics, tables, and even the site header.

The print adaptation of Wait But Why needed to include an equivalent to these stick figures, so I developed a library of miniature people as I built out the magazine.

With little more than a few strokes they needed to convey a wide emotional range, as they often serve as an audience surrogate to what the text is saying.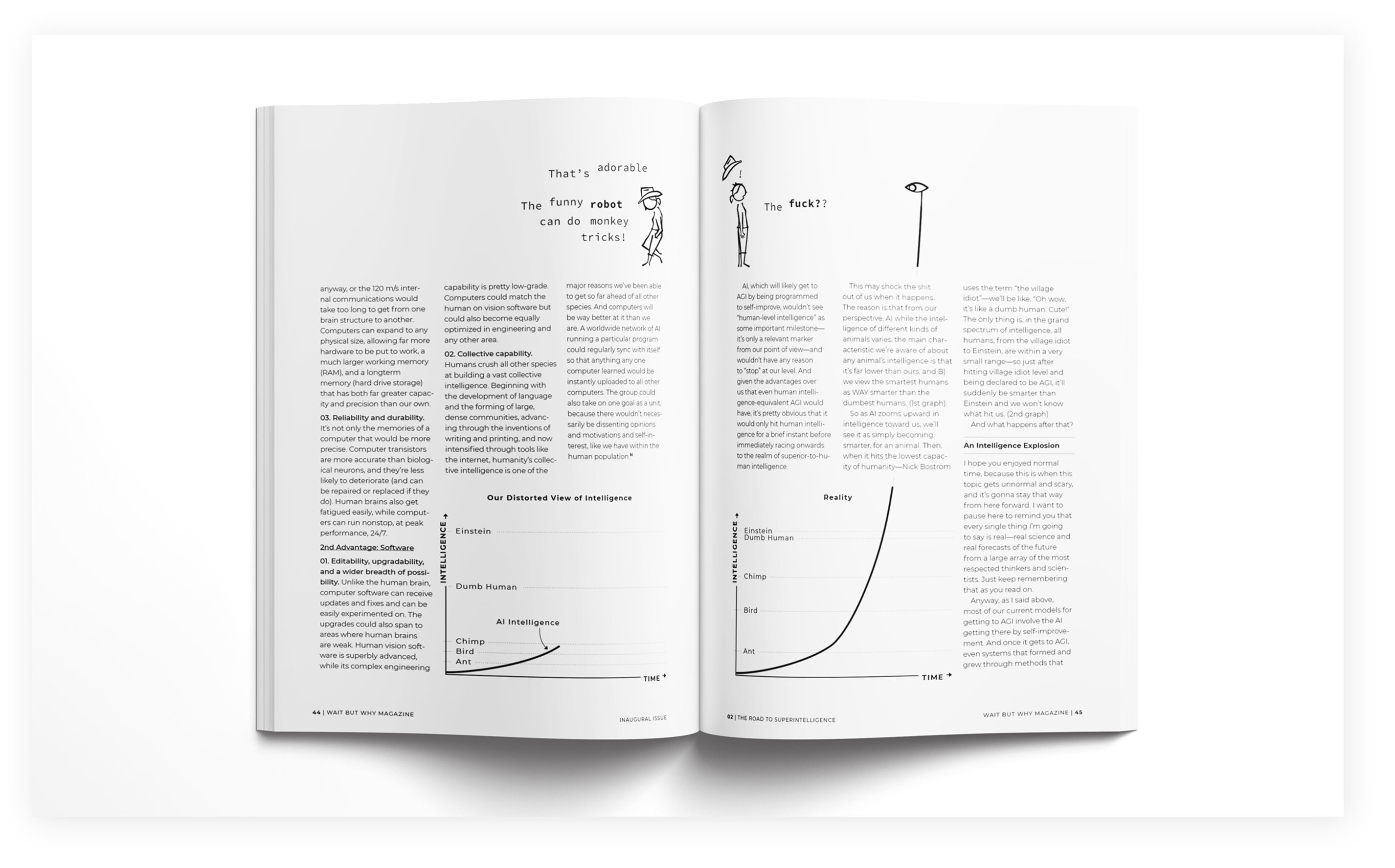 Typography & Readability

The very first time I read an article on waitbutwhy.com I recognized a problem: the articles are generally too long to be read in one sitting, and even when the blog breaks them up into multiple posts you often see a single column of text that scrolls on seemingly forever.

This format makes it very inconvenient to find where you left off if you take a break in the middle of an article. Additionally, long-form reading on a backlit screen is just not very comfortable.

Because of all this, I knew that enhanced readability would be of significant importance to the magazine. To ensure a comfortable read, I ran print tests in several fonts and point sizes before landing on my body copy: 8pt Montserrat Light.

Tidy, wideset, and featuring large counters, this typeface made for a comfortable and easy read during user testing. The lightweight nature of the font combined with a substantial top-margin on every page lends the magazine an inviting, airy feel that makes it easy to dive in and start reading.


Project Summary

This magazine project was one of the largest solo projects I've ever taken on, and I'm incredibly proud of how it turned out. I was completely immersed in typography, illustration, layout, and terrifying predictions about artificial intelligence for ten straight weeks, and I really could not have been happier.

I feel as though I met the objective of creating a version of Wait But Why that would be worth paying for, and I believe that the magazine would sell well if it were advertised on the blog store. I'm particularly happy with the resulting aesthetic which I feel is simultaneously true to the style of the source material and significantly visually elevated.

I learned a ton about how to manage the production of a large document during this course, and it was very satisfying to have something so substantial and tangible to turn in at the end of the school quarter.