REI Competitive Brand Audit
7 weeks | REI Summer Internship
Introduction
As the outdoor retailing industry grows, brands that occupy this market are grappling with how to reconcile business growth with the realities of the global climate crisis and the pledges that populate their mission statements about reducing environmental impact. As REI considers their position in the market, they are in need of a clear picture of what and how other brands are communicating to the outdoor consumer.

My internship project was to complete a thorough audit of competitor brand messaging and present it to a panel of creative directors and marketing leads at REI.


Task
Unpack competitor approaches to branding and paint a picture of REI's competitive branding landscape in the name of maintaining/attaining brand differentiation.
Roles & Collaborators
Dylan Thurgood — Auditor, Researcher, Analyst, Presenter
Eli Kahn
— Auditor, Researcher, Analyst, Presenter
Krisna MacDonald
— Mentor
Amelia Irwin
— Creative Director
Step 1: Define Scope


Our creative director provided us with a list of the brands we'd be auditing, which fell into three categories:

Outdoor Retailers who are direct competitors of REI

Heritage Brands who are effective communicators of their brand legacies

Large Retailers who — like REI — manage a variety of smaller sub-brands
Step 2: Gather Material

We began by collecting as much digital and physical media as we could find from each company on our list. In every case where the brand we were researching had a store in the Seattle area, we visited that store to photograph wayfinding signage, window and product displays, product segmentation, brand history displays, and anything else that might be valuable. In cases where brands had multiple locations in Seattle, we visited all their stores to see what differed and what remained consistent.


In addition to what we gathered in person, we also took a deep dive into the online presence of each brand, dissecting purchase funnels, social media profiles, blogs, photo styles, font choices, and much more.
Step 3: Analyze


Once our brains and our work cubby were stuffed with brand content, we sat in the space we had created and thought. We had conversations about what each brand was projecting, how they related to each other, and what their respective personalities were. We considered the personas who would choose one brand over another and what was important to these people. We did word association exercises with each brand and posted sticky notes with the adjectives that bubbled to the surface. And we brought people in from around the office to look at our boards and talk with us about their understanding of each brand.

Finally, we took our insights and refined them into something coherent and presentable. We settled on two to three characteristics or adjectives for each brand, and then used three examples of branding from each company to explain how these characteristics were being communicated to customers.

For example, we said that Patagonia was authentic and assertive and then explained specifically how they convey these qualities through their choices in marketing language, photo style, and their in-store experience.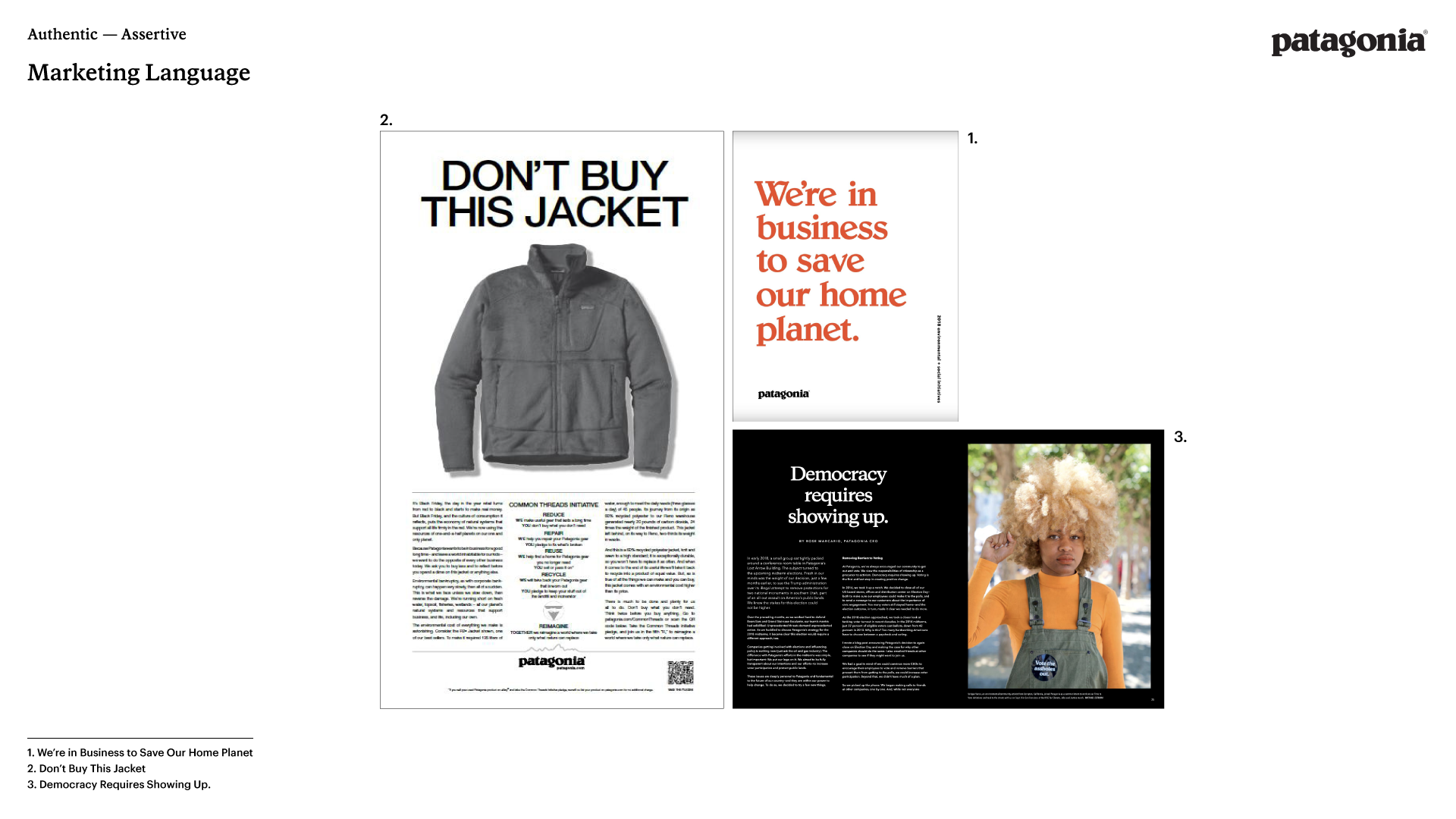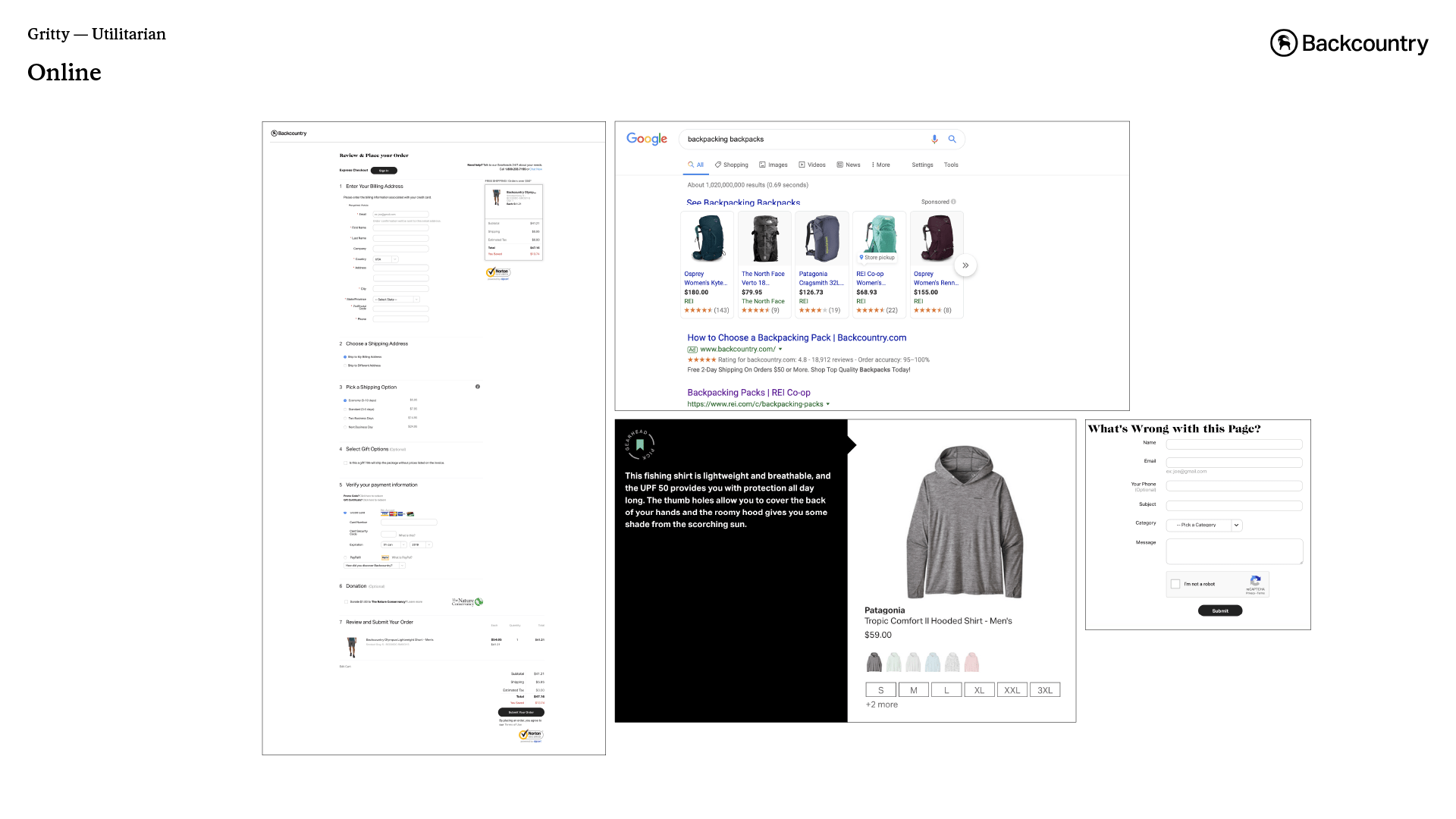 Step 4: Present


Once we felt confident in our distillations we compiled a presentation deck with our findings. We presented first to the branding team, then to a collection of brand strategists and creative directors across REI, and finally to the Co-op Brands division which runs REI's in-house brand of retail goods.

Project Summary


This project was successful because of the guidance we received from our fantastic Creative Director, and because of our commitment to our process. We were painstaking in our audits and collection of materials and we had long discussions about each brand in the war room once everything was up on the walls. The distillation process was lengthy, slow, and deliberate, and this allowed us to gain valuable insights into each of the brands we audited.

I learned a lot of valuable lessons during this audit about the benefits of having a clearly articulated brand strategy, and it was fascinating (and validating) to get such a granular view of just how essential design executions are to bridging the gap between a companies' business decisions and a consumers' reaction to their brand.